Northern Area Examiners Workshop held on September 3rd 2016 at Winterton Model Flying Club.
Before taking up my current position as your Club Support Officer I was heavily involved on the BMFA Northern Area committee having served as area secretary and area delegate for a number of years, I am still an Area Chief Examiner and the Area Achievement Scheme co-ordinator. Each of the 14 BMFA areas are requested to organise and host examiners and instructors workshops and as the Northern Area co-ordinator I arranged a workshop which was held on September 3rd and kindly hosted by the Winterton Model flying Club.
The Workshops provide a 'refresher' for examiners to help them keep up to date, the guidelines for the various tests are reviewed annually and hence potentially change with time. Attendance at a workshop will identify to examiners any revisions that they may not otherwise have noticed, they also help to improve consistency between examiners. Instructors can also see exactly what examiners are looking for during a test, which provides useful guidance for their activities. They workshops also provide the opportunity for examiners and instructors at all levels to meet, discuss the scheme, and share experiences they provide a useful source of input and feedback into the review and development of the guidance documents for the various tests and provide potential candidates with firsthand experience of the test environment and practical examples of exactly what the examiners will be looking for.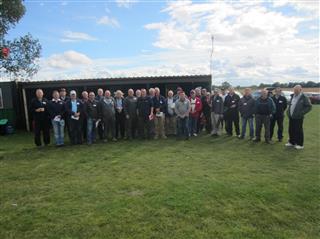 The attendees after a very satisfying BBQ lunch
34 Examiners, instructors and test candidates attended for the day, and demonstration flights were carried out by Lech Harwot (Fixed Wing A), Steve Jackson (Fixed Wing B) and Darren Nicholson (Helicopter A & B) after each demonstration flight those present compared notes and discussed the flights, it was pleasing that the majority of attendees had very similar views on the elements of the flights and had picked up on the deliberate mistakes that were added to the demo flights, the ethos is very much about reaching a consensus rather than telling individuals they are instructing or conducting tests incorrectly.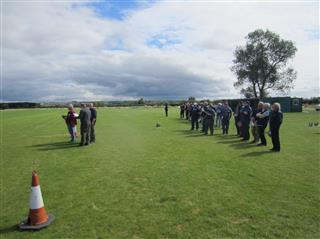 Steve Jackson demonstrates the fixed wing B
The area had provided funds to provide refreshments, teas and coffees were provided throughout the day and an excellent BBQ was prepared by Julie, the wife of the Winterton club chairman, and my wife Siobhan, it would be fair to say that nobody was left hungry!!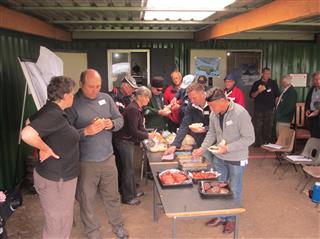 Winterton Club Chairman discusses the finer points of a bacon double cheeseburger with his wife Julie.
Time was available towards the end of the day to conduct some testing and congratulations go to Adrian Tomlin who passed both his Helicopter A and B and Colin Proctor who passed his B fixed wing.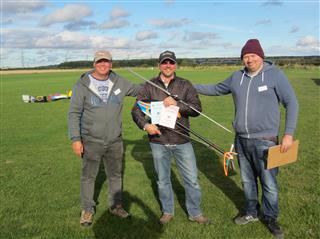 Adrian Tomlin (centre) receives his A and B certificate for helicopters from examiners Leon Hostad (right) and Nigel Bryett (left).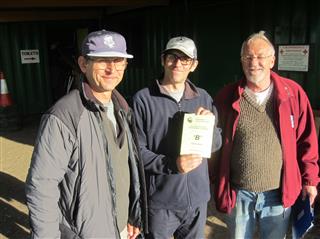 Colin Proctor (centre) receives his B certificate from examiners Lech Harwot (Left) and Steve Jackson (right).
I would like to thank all those who attended the workshop, the Winterton club for allowing us to use their excellent facilities and to Julie and Siobhan for keeping us extremely well fed and watered for the day.
Andy Symons
Northern Area Achievement Scheme Co-ordinator